Feel Better Box
By: Anonymous | Posted: Dec 09, 2016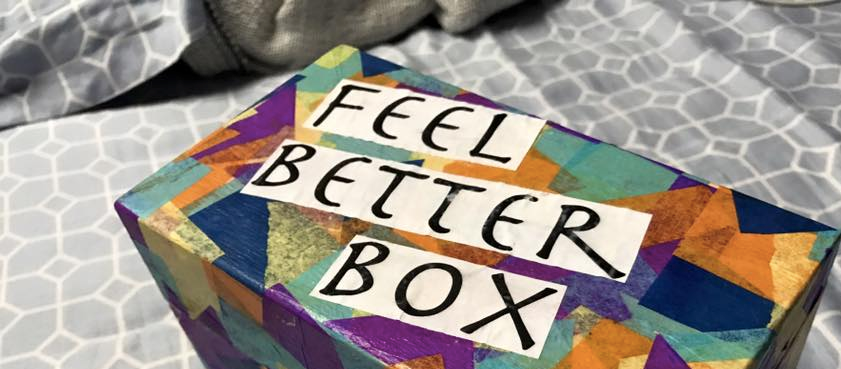 My name is Jennifer and I am 23 years old. I first came to BridgePoint in October 2016 for a retreat. I wasn't sure what I would get from it, but I obviously got something because I instantly fell in love and was back 2 weeks later for another retreat!
Knowing myself, having attention-deficit hyperactivity disorder (ADHD), I decided to come to BridgePoint equipped with my "feel better bag." This is a small bag (similar to a makeup bag) that I keep my sensory "toys" in. As I have grown to know my challenges with focus, emotional regulation, and general sitting still, I have developed this "feel better bag" in order to self-regulate. Inside, it has some small fidget toys, a small container of play-doh, a pen and my journal, and other therapeutic tools that I use to help me relax. Multiple times during my first retreat, other participants would ask me what was in there, and some were shocked at how amazing it felt to hold some of the objects in their hands. My personal favourite is a small ring called a "fidget for your digit" which rolls up and down your fingers and feels like a gentle massage. I found myself lending out the items in my feel better bag to some of the other participants, and then I got an idea.
I set off on a journey back home in Edmonton to find the best fidget options for BridgePoint. The criteria was simple! First and foremost, they had to be quiet. In group when we are, at times, emotionally charged or talking about sensitive topics, the last thing we want is the over-stimulating sound of items clacking, squeaking, or clattering in someone's hands. The second was that they had to be discreet and minimal. I wasn't keen on buying things like play-sand or play-doh, because although they are fun to play with, they can be distracting and messy. Lastly, they had to be selected with love and intention, as these items would be a gift to the new family I had been adopted into.
I spent over an hour wandering in a store that specifically sells sensory items. I decided on a variety of fidgets, and then remembered that I needed a container to put them in. I decided to continue the alliteration theme, and I headed over to the local craft store to find the BridgePoint "Feel Better Box." It took four hours to decorate the feel better box.
On the outside of the lid, I displayed the title: "Feel Better Box." On the inside of the lid, I added the phrase, "You Made It." When I came to BridgePoint, the team noted that often, the hardest part is walking through the front door. This reminded me of the comfort that I found in Yoga when my Yoga Therapist gently reminded me, "the hard part is over - you made it to your mat." I want all participants who open the box to be reminded of their recent achievement: Making it.
The gratitude that I have for the love, compassion, kindness, and openness that has been shown to me by the team at BridgePoint is overwhelming. Each addition to the Feel Better Box was chosen with love and intention. My hope is that for one person, they will find comfort in the box, knowing that they made it. Somebody else out there, who didn't even know them, thought of them lovingly. It's more than a box of fidget toys to help with antsy hands during long group sessions - it's a statement of loving kindness towards people who themselves may not feel worthy of such a gesture. You made it. You made it. You made it.